Collagen Creamer - Nootropic - Vanilla Toffee
Tax included.
FREE AU SHIPPING OVER $80
No code needed, just head to checkout!
Locako's Collagen Creamer crafted with the finest and cleanest ingredients including Collagen, MCTs and coconut milk powder. It supports ketone production and also contains nootropic cognitive enhancers that may help boost energy, brain function, memory and focus.
Perfect inclusion for your black coffee as a creamer, or to your favourite hot drinks, water or smoothies.
NUTRITION INFORMATION PANEL
Coconut Milk Powder, Pasture Raised Bovine Collagen, Coconut MCT Oil Powder (C8, C10), Non GMO Birch Xylitol, Natural Flavours (Toffee, Vanilla), Organic Maca Powder, Siberian Ginseng Extract, L-Theanine, Ashwagandha, Sunflower Lecithin, Monk Fruit Extract.
Collagen is found throughout the body in such areas as muscles, skin, bones, tendons, blood vessels, and the digestive system.
Collagen is the glue that holds the body together. As we age the amount of collagen we produce begins to decline.
Consuming Collagen provides a way to replace collagen back into your body and has amazing benefits such as:- Nail Health- Shiny Hair- Injury and wound repair- Gut Health- Build and maintain muscle- Hunger suppression.
Allergen Warning

Manufactured in a facility that also produces products containing Dairy, Egg, Soy, Tree Nuts, Lupin, Fish and Peanuts. 
*Warning - Xylitol is lethal to dogs.
Directions 
Stir 2 heaped teaspoons (12g) into your favourite hot drink, smoothie, milk alternative or simply a glass of water. For best and frothy results, add all ingredients to a blender, blend, pour and enjoy! 
Storage 
Close package immediately after use. Store in a cool, dry place, away from direct sunlight.
Disclaimer
This product is not a sole source of nutrition and should be consumed in conjunction with a healthy nutritious diet.
View full details
Add an additional description to your product option. Ex: Size guides, and other common questions.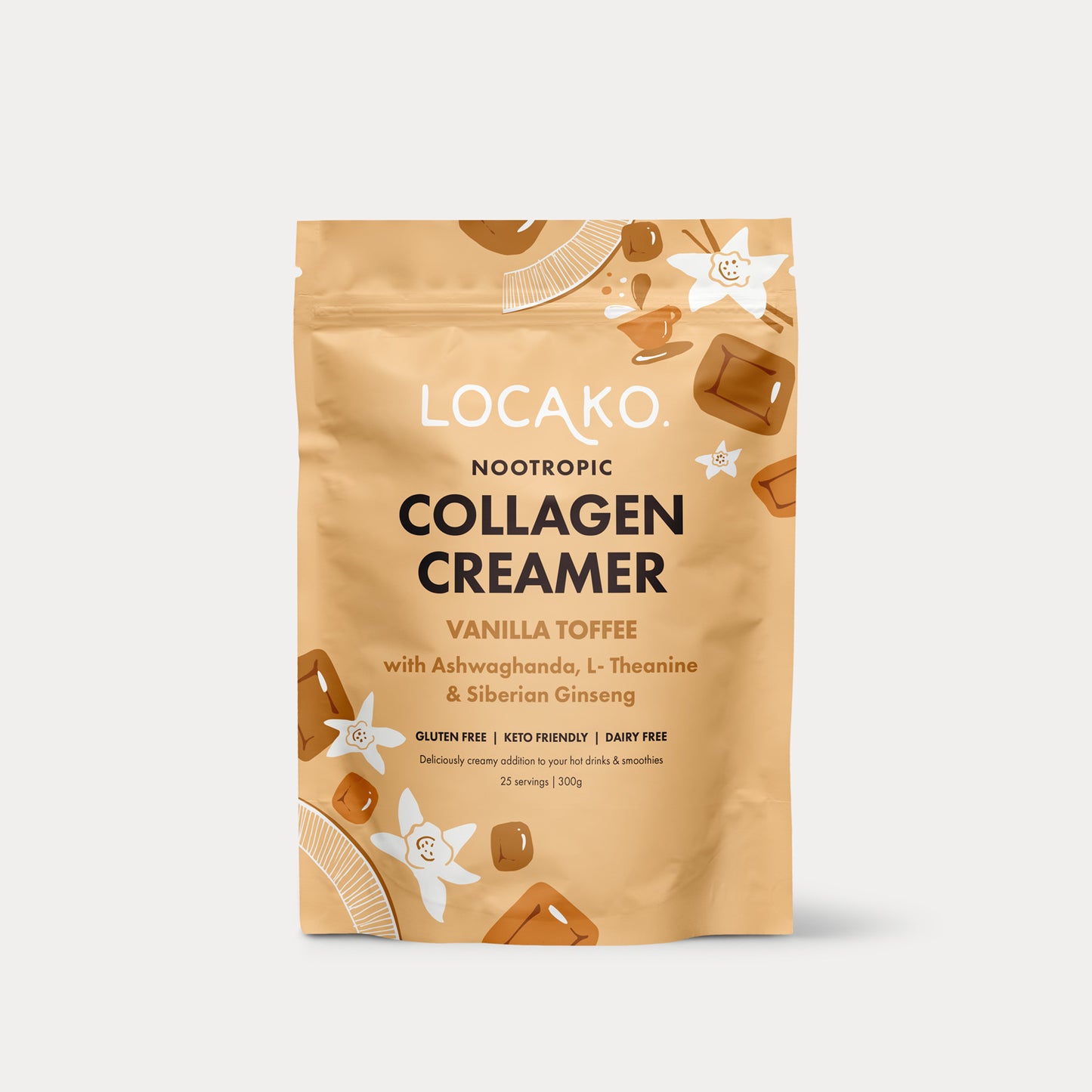 Collagen Creamer - Nootropic - Vanilla Toffee
LOVE!
I love adding all the collagen creamers to my coffee each morning but this is my favourite. So sad it's is sold out! Obviously it is everyone's favourite :(
Love this so much
I add this to my morning coffee and it is so delicious. I am travelling full time and bought a few to travel with its that good
Excellent Products
Always happy with my purchases, great value too.
collagen creamer
it's a wonderful product Ithats why I keep buying them
Yum
It has become a habit to have a teaspoon of Locako coffee creamer in our morning coffee and we have been doing this for some time. Each order we have placed has been filled and sent to us quickly. We have never been disappointed with the products ordered or the communication from the team at Locako and we will continue to buy from them.
THE BEST-IN-CLASS KETO SUPPLEMENTS!
Reflect Your Beauty Inside & Out!
FREQUENTLY ASKED QUESTIONS
Have Query? Ask Us!
Collagen is one of the most abundant proteins (approximately 30%) in the body. It's the main structural protein that forms the connective tissue in every nook and cranny of your body: from your skin to hair, bones, cartilage, and digestive system.
Adding a collagen supplement into your diet not only tops up your body's stores of collagen, but it can also stimulate collagen production. It's like a double-whammy for your body's health.

Taking 10-15 grams of collagen will give you visible results such as shiny hair, smoother skin, stronger nails, improved joint function and better gut health.
We use pasture raised collagen in our products that include collagen as an ingredient. Our pasture raised collagen is sourced from healthy and happy cows that are grass fed and free to roam, so you can be assured we give you the highest quality products. Our collagen is also extremely versatile in the kitchen for adding to your favourite hot drink, smoothies, water or baked treats.