GoFat 100% Pure C8 MCT Oil Powder
Tax included.
FREE AU SHIPPING OVER $80
No code needed, just head to checkout!
Locako's C8 MCT Oil Powder is a premium and upgraded version made from 100% coconut sources, containing 100% caprylic (C8). C8 is the most efficient fatty acid type of MCT, being a shorter chain that is quickly digested and converted into ketones by the body. This powder is ideal for those following ketogenic and low-carb diets and is free from dairy, is vegan, and has no nasty fillers. As an added bonus our MCT Oil Powder is spray dried on acacia fibre for added fibre and gut support. 
Our MCT Oil Powder may support cognitive brain function, have a thermogenic effect, aid in mental clarity, and help with staying focused. It is keto, paleo, sugar-free, and paleo-friendly.
Expiry Date  1 Jan 2024
Allergen Warning
Manufactured in a facility that also produces products containing Dairy, Egg, Soy, Tree Nuts, Lupin, Fish and Peanuts. 
Directions 
Add 2 teaspoons into your favourite hot drink, water or smoothie, even add to yoghurts, baking and clean treats.
Best to take it in the morning for focus and fat loss, as a pre-workout for quick energy and no crash, or during endurance for sustained energy.
Storage 
Close package immediately after use. Store in a cool, dry place, away from direct sunlight.
Disclaimer
This product is not a sole source of nutrition and should be consumed in conjunction with a healthy nutritious diet.
GoMCT Pure C8 Caprylic MCT from Coconut.
No chemicals, hexane, solvent, maltodextrin, casein or other nasties are added in this product.
GoMCT is a registered trademark of Compound Solutions, Inc. 
View full details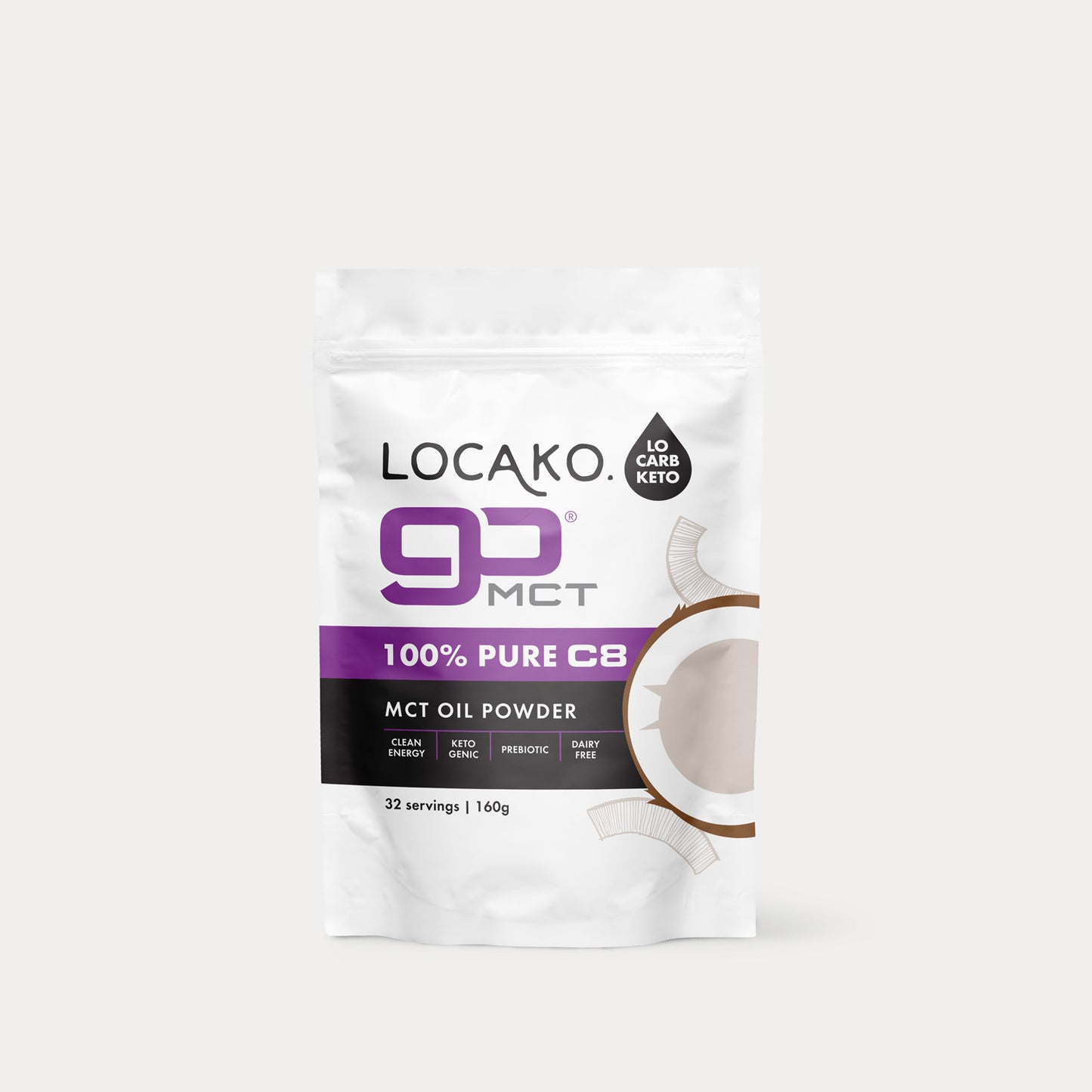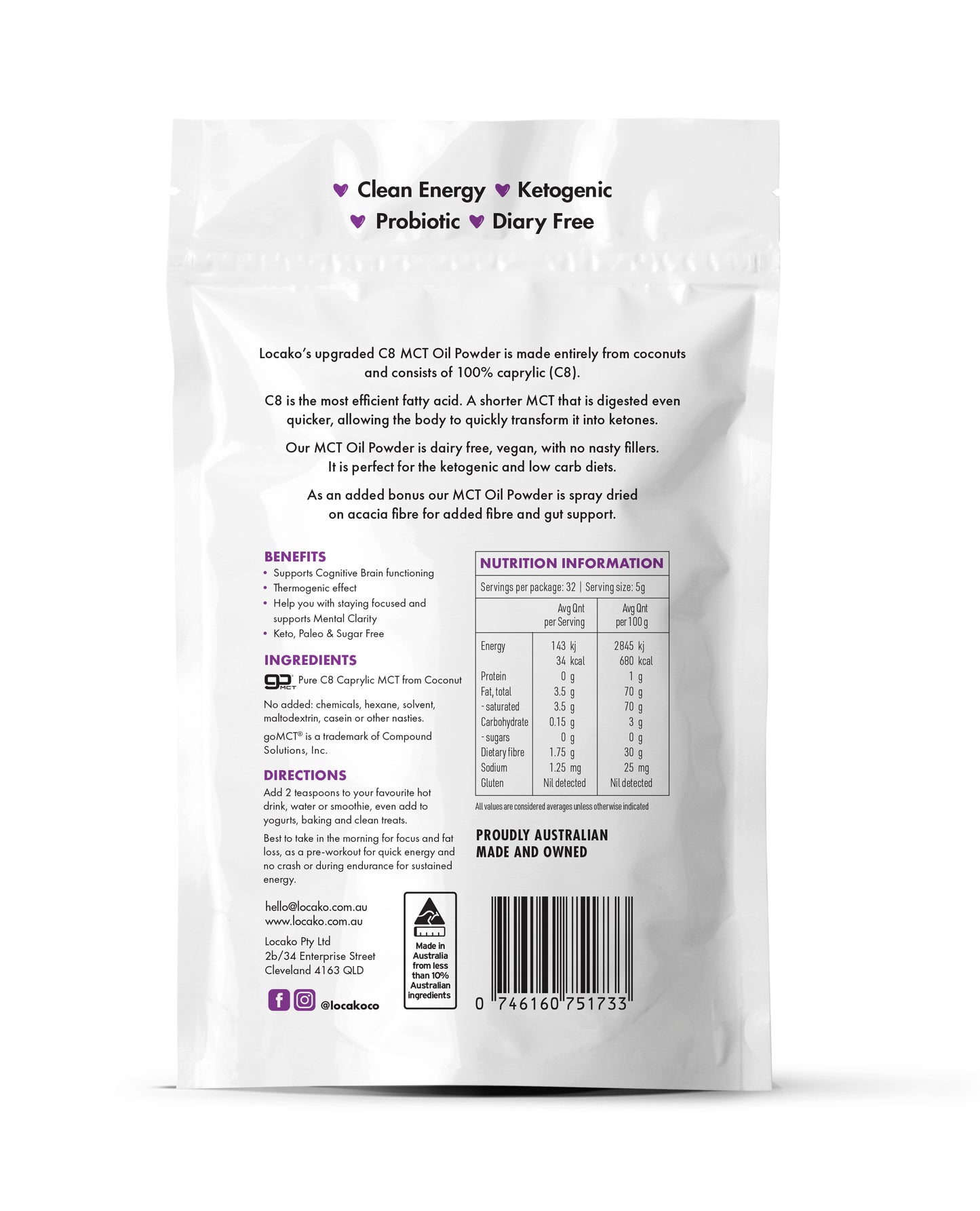 GoFat 100% Pure C8 MCT Oil Powder
Fantastic MCT powder
I add this to all protein drinks, cups of tea, baking, icing etc etc. Great way to get a good amount of quality MCT. C8 MCT is the best.
THE BEST-IN-CLASS KETO SUPPLEMENTS!
Reflect Your Beauty Inside & Out!
FREQUENTLY ASKED QUESTIONS
Have Query? Ask Us!
Collagen is one of the most abundant proteins (approximately 30%) in the body. It's the main structural protein that forms the connective tissue in every nook and cranny of your body: from your skin to hair, bones, cartilage, and digestive system.
Adding a collagen supplement into your diet not only tops up your body's stores of collagen, but it can also stimulate collagen production. It's like a double-whammy for your body's health.

Taking 10-15 grams of collagen will give you visible results such as shiny hair, smoother skin, stronger nails, improved joint function and better gut health.
We use pasture raised collagen in our products that include collagen as an ingredient. Our pasture raised collagen is sourced from healthy and happy cows that are grass fed and free to roam, so you can be assured we give you the highest quality products. Our collagen is also extremely versatile in the kitchen for adding to your favourite hot drink, smoothies, water or baked treats.